Combating the Worst Kind of Predator: Magnet Forensics on the cyber-hunt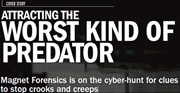 Owners and entrepreneurs understand that rare energy experience when passion produces profit, stimulates growth and attracts talent. It takes a particular kind of entrepreneur, the kind movies are made about.
Jad Saliba, ex-Waterloo Region Police officer, cancer survivor, computer geek, passionate guardian of civil society and founder of JADsoftware is that kind of entrepreneur.
In 2006, Officer Saliba was the family bread winner, father to three adorable children and a dedicated husband to a beautiful wife. In 2007, life slammed Saliba into a tailspin. He was diagnosed with cancer at the age of 26; through the next year he went through the ups and downs of chemotherapy. His dream of police work, raising a family, and watching his kids grow, was in jeopardy.
But throughout his ordeal, he maintained his dream of fighting bad guys. And at the end of his cancer therapy, Saliba was provided an opportunity that would change his life forever.
(By John Rohr, Exchange Magazine)