New in Magnet ATLAS 3.0: Improved Task Manager, File Attachment Upload API, and More
We're proud to announce the availability of Magnet ATLAS 3.0!
ATLAS's case management and collaboration capabilities are a key part of the Magnet Digital Investigation Suite's integrated solution approach, acting as the command and control center for your digital investigations. ATLAS helps you to centralize your information and data to help all of your agency's stakeholders – forensics examiners, investigators, and external collaborators – easily secure, track, manage, and collaborate on all aspects of your case.
With Magnet ATLAS 3.0, we've introduced an all-new Task Manager to help you better track your investigations, streamlined the submission process for multiple requests, and added new ways to integrate video and other attachments into your case data and reports by extending advanced integration to the other Magnet Digital Investigation Suite solutions as well as other tools in your forensic toolkit.
To learn more about Magnet ATLAS 3.0, check out our product page.
New in ATLAS 3.0: Upgraded Task Manager
The upgraded ATLAS Task Manager greatly improves your ability see the progression of casework though the assignment, monitoring, and completion of tasks — allowing your agency to develop more efficient workflows and more accurately estimate and forecast services demands.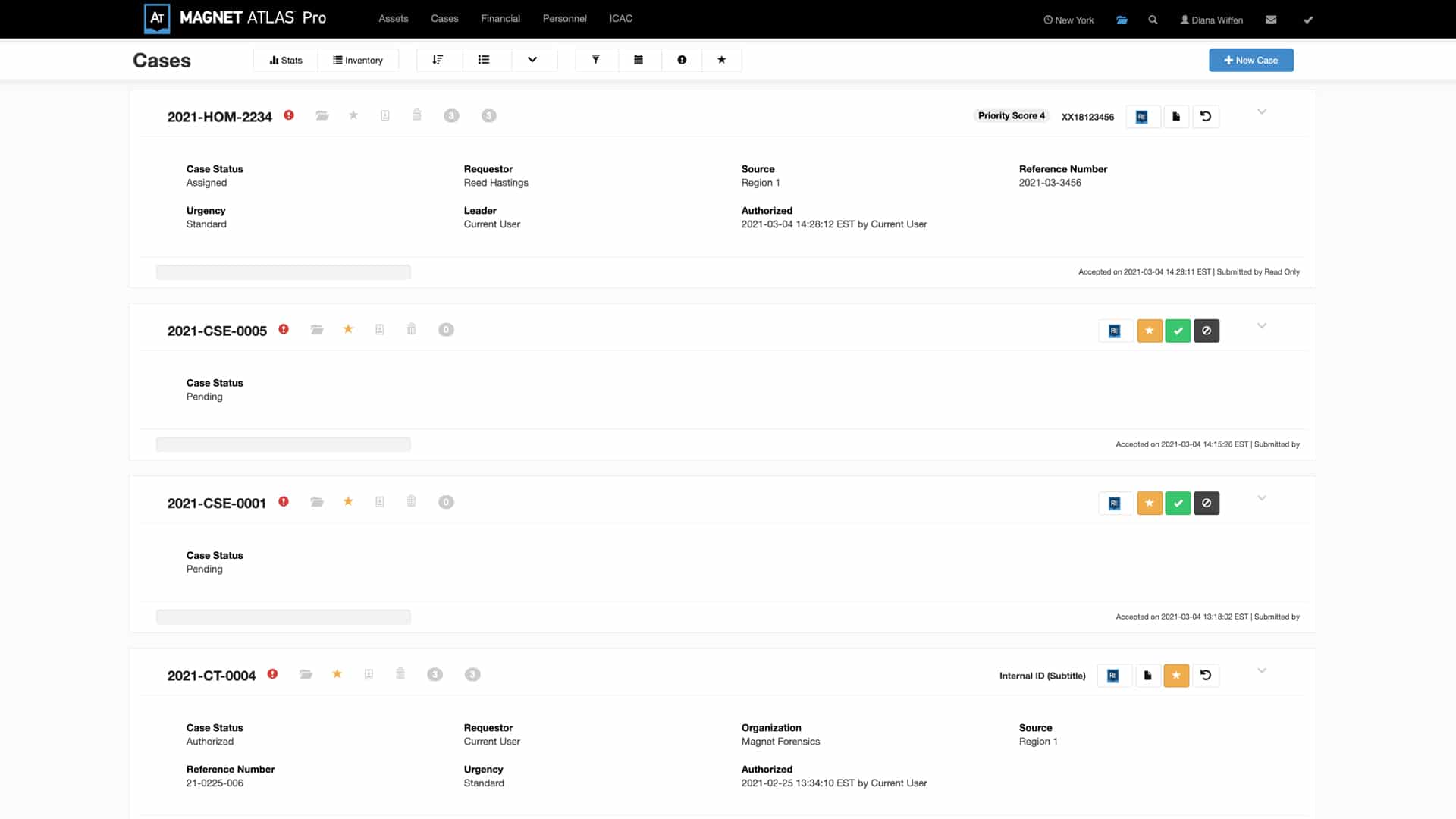 ATLAS' new task management process allows for more oversight of the individual tasks within cases. Tasks have internal and external notifications for those assigned to help keep your collaborators up to date, and each task has their own metrics for reviewing task progress within the casework.
Supervisors using ATLAS will now have a better method to visualize task assignments, task statuses, and task priorities with included charts, tables, and timeline views.
To learn more about the new ATLAS task manager, check out our how-to video from our Customer Solutions Manager Kevin Harth.
New in ATLAS 3.0: Multiple Request Submission
ATLAS now allows for multiple request submissions related to the same case, allowing organizations to utilize more standardized workflows for receiving and documenting additional requests for services within ongoing casework.
When making an initial request for lab services as part of a digital investigation, evidence items will be included, but often an investigator may collect additional evidence after this initial submission (after locating a suspect or subject, for example). With ATLAS' new functionality, the investigator can now make a subsequent request to the lab using the same submission process, saving time and effort.
Watch our how-to video from Kevin Harth to see this useful new feature in action!
New in ATLAS 3.0: File Attachment Upload API
With ATLAS 2.0, we introduced the ATLAS API to enable you to integrate and connect ATLAS with other tools in your ecosystem, allowing you to use ATLAS as a jump point to trigger key tasks such as creating a new case, adding evidence to a case, and more.
In ATLAS 3.0, we've added new API functionality to help you easily add file attachments to items in ATLAS. In addition to existing file attachment direct upload through the UI, you can now utilize the new API to connect to your other internal systems that include relevant case documents or files and automatically add them to your cases in ATLAS.
For customers that are also using Magnet AUTOMATE and AXIOM, this new API functionality can also be used to transfer attachments (e.g., case information files, log files, reports, etc.) based on your automated workflows directly to ATLAS, where they can be added to the global summary of your investigation for easy reference.
New in ATLAS 3.0: Video Attachment Previews
Sometimes when reporting on their case, investigators may wish to attach a video file for stakeholders to reference. However, when it comes time for the stakeholders to review these videos, they must first download the file, which can take time if the files are large and potentially raise security issues.
With ATLAS 3.0, stakeholders reading the investigator's report may now view the video within the ATLAS UI itself. This improved workflow eliminates the need to download potentially large videos files, helping to enhance the user experience as well as keep potentially sensitive video data controlled and protected within ATLAS.
Check Out all the Magnet Digital Investigation Suite Improvements
Read our blog to see more of the improvements that we have made to the Magnet Digital Investigation Suite, including Magnet REVIEW and Magnet AUTOMATE. 
Start managing your digital investigations with Magnet ATLAS today!
Reach out to our experts and let us help you to empower your entire agency to collaborate on, analyze, and manage all aspects of your digital investigations.