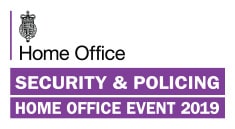 The Security & Policing event, hosted by the Joint Security and Resilience Centre (JSaRC), will take place at Farnborough from 5 – 7 March 2019. The event creates an excellent opportunity for deepening our strong security alliances around the world and for our international partners to understand and hear about the work we are doing to keep our country secure and reduce crime in the UK and overseas.
For the first time in its history, the Security & Policing event will be supported and attended by the Home Secretary alongside the Minister for Security and Economic Crime. They will lead an exciting conferencing and briefing program where you will hear from a number of senior officials and police officers from across the UK Governments security departments.
Click here to learn more about this event!
EVENT DATES:
March 5th - 7th, 2019
EVENT LOCATION:
Farnborough, UK